With the boom of the on-demand economy, it's evident that what is important to business growth today is high-speed delivery and quality.
In the world of visual media, your customers are constantly exposed to hundreds if not thousands of visual media daily, from the billboards they see on their daily commute to the online banners on their mobile phones.
Now, the burning question is, can your in-house designer meet these growing demands without throwing down their resignation?
This article will offer you six reasons your business should opt for an on-demand graphic designer service instead.
1. Safeguard your business operations
Would you prefer to lower your expectations of your in-house designer's output or face a sudden resignation that will affect your business operation cost? Let us elaborate; it's tough competition out there and as a growing business, you need designs at an accelerated rate that still maintains the quality to even leave an impression on your customers.
By hiring an in-house graphic designer, your costs include hiring, training and all the additional costs involving permanent employment.
In the 2020 Malaysian Employee Experience Trends Report, it was noted that only 16% of employees in Malaysia intend to stay at their company for less than a year, while 30% intend to stay for less than 2 years.
This means a company needs to replace almost a third of its workforce every two years – a significant cost to the business. Especially for SMEs, this hidden cost could detrimentally affect your workforce management who could be better allocated for more profitable tasks. Not to mention the time gap between turnovers where there is no graphic design output, especially during peak sale seasons!
With on-demand graphic design services, you are mitigating the operational risk for your business with a reliable service provider that will serve you for as long as you want.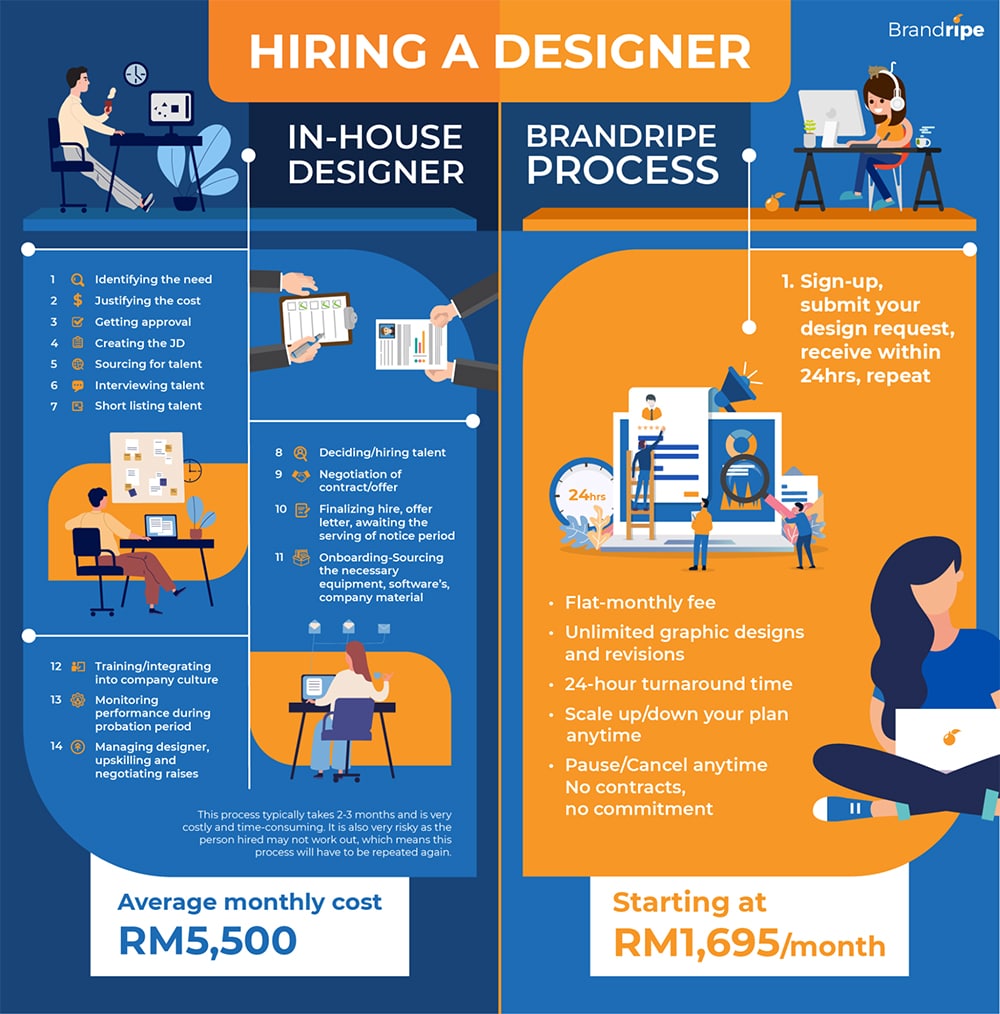 2. Save time from filtering freelancers
With more and more players in the freelance community, businesses are provided with more options for graphic design freelancers. However, more options mean more filtering efforts to find suitable freelancers who meet your expectations.
While freelancers can provide impressive portfolios, your filtering process will need to determine the level of communication and time spent from the client's end to communicate the expectations and the speed of deliverables.
If you end up having to write 30 emails and schedule 10 video calls just to discuss a few designs, you may find yourself only getting less than 10 designs monthly due to the high number of revisions required.
Perhaps you might be lucky enough to land a professional graphic designer who quotes you a reasonable retainer rate. However, your deliverables could fall into the cracks as the designer may either outsource your account to a junior designer or is unable to meet timelines as they prioritise higher-paying clients.
With an on-demand graphic design service, you can rest assured that your design work is being handled by a group of professional graphic designers who specialises in all areas such as logo design, packaging, advertising and more.
To add to this, while hiring freelancers will put a cap or charge for revisions, did you know that Brandripe offers unlimited requests and revisions? Just some food for thought!
Image: Unsplash
3. Cost management flexibility
By outsourcing your graphic design needs to a professional service like Brandripe, you are providing yourself financial flexibility that you wouldn't otherwise have with a freelancer or in-house graphic designer.
More requests generally mean spending more money whether in the form of a raise or contract revision, but with an on-demand graphic designer that provides unlimited requests and revisions (like Brandripe, as we mentioned earlier), you have the financial security and are able to manage deliverables and expectations.
Brandripe also offers a 14-day money-back guarantee, so while you are considering if an on-demand graphic designer is right for you, you are also managing the financial risks for your business.
As you know, there are no graphic design freelancers that offer free trials and money-back guarantees. This poses a financial risk because you may have to commit to a contract or design that you are unhappy with and spend thousands on revisions.
In an article by Penang Institute, one of the highlighted challenges for SMEs during the pandemic is the ability to liquidate assets in times of difficulties. With this in mind, Brandripe allows you to cancel anytime which allows you to come and go as you please. There are no contracts involved, so you are able to discontinue the service anytime, no questions asked.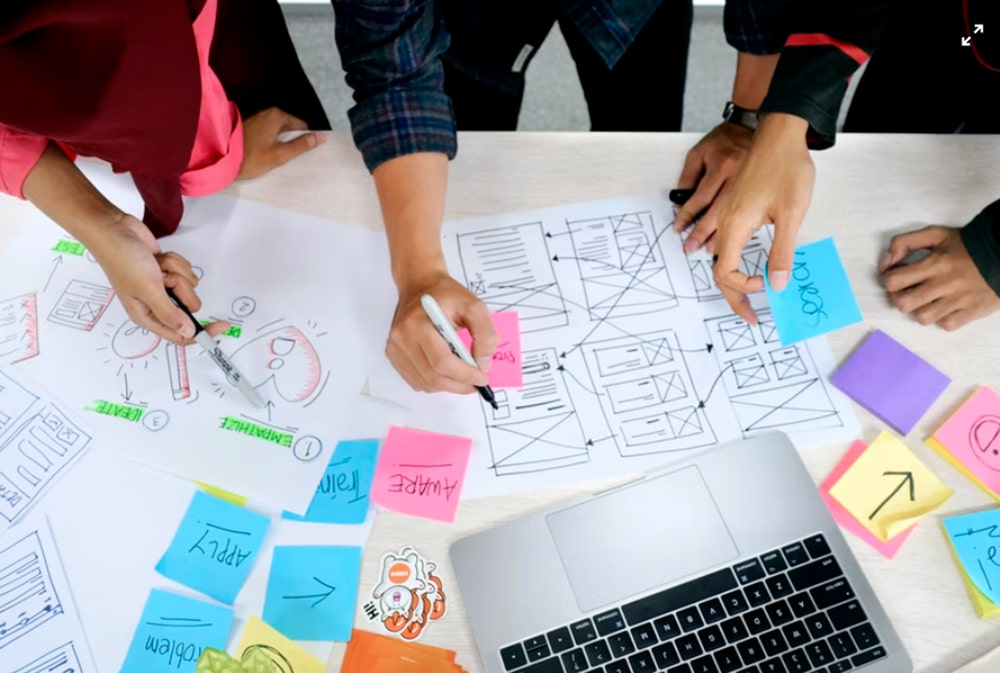 Image: Unsplash
4. Stay creative yet consistent
When it comes to in-house graphic designers, being tied to a single brand and company can also constrict creativity. It limits the exposure of discovering and utilising trending designs that capture the attention of your customers.
In the case of freelancers, creativity may sometime come at the cost of consistency or the number of deliverables. As a business though, these are uncompromisable aspects.
So, with an on-demand graphic designer, you will gain access to experts who spent the time to think up unique designs to communicate your brand identity consistently.
For an on-demand graphic designer service like Brandripe, your designs are more than just images on the internet, it's a communication tool to connect to your customers visually.
Brandripe's graphic designers not only provide creativity but also versatility in expressing that creativity in a variety of visual media formats – meaning, we're literally giving you more mileage for your money.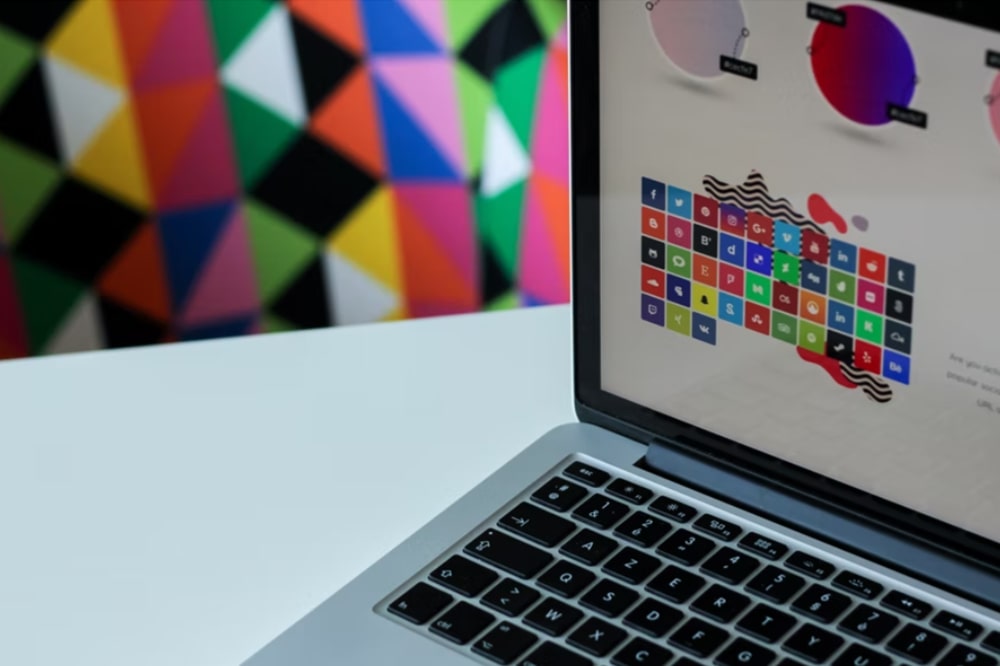 Image: Unsplash
5. Protect your branding
Imagine this scenario, with your customer commenting, "Oh I've seen this stock image or template before". This builds an impression around your customers that your brand lacks exclusivity and it may leave them feeling that you are just like every other business.
With in-house designers or freelancers, a common pitfall is the use of template designs that are shared with their clients, which often leave an unfavourable impression on your customers.
You might enjoy low upfront rates, but at what cost? The impact on your customers that are disillusioned by the inconsistency of your branding can lead to an immeasurable loss of revenue.
To recover, you may be subjected to high marketing costs to regain favourability from your customers. This may also present an opportunity for your competitors to stand out and take your market share by optimising their visual and brand identity.
At Brandripe, our on-demand graphic designer is dedicated to providing you with unique designs that revolve around design psychology and market trends. With the right expertise on the job, you will not be able to create a positive brand experience visually but also the consistency of the visuals allows your brand to have a recognisable identity.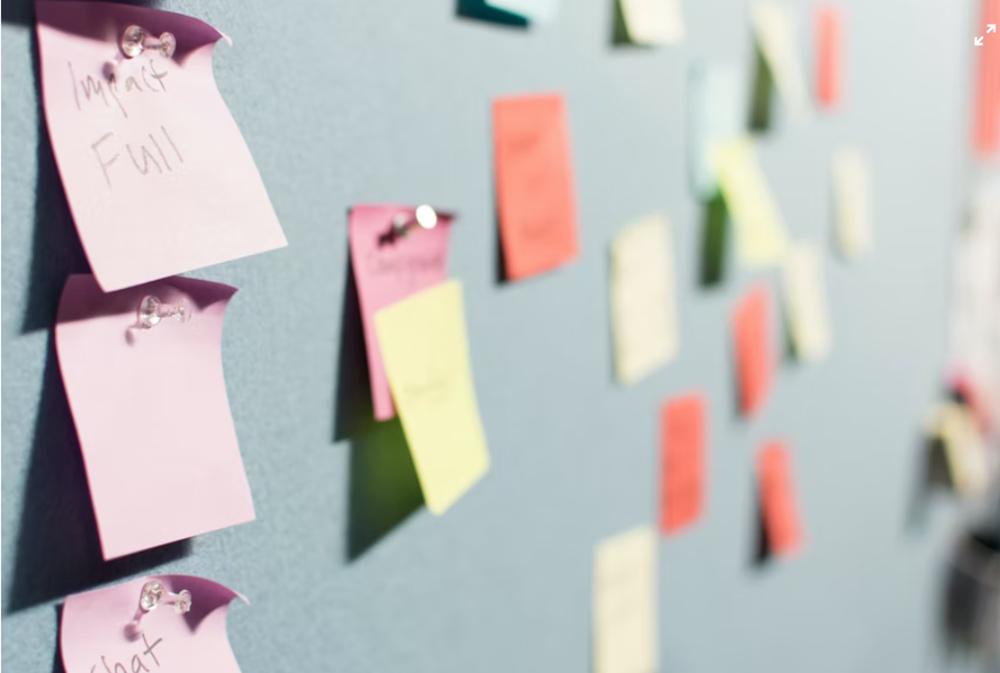 Image: Unsplash
6. Provide flexibility to serve your customers' visual needs
One of the most underrated value propositions in outsourcing help is the flexibility of your hired talent.
The world as we know it is moving at such a rapid rate with so much happening that it seems almost impossible to keep up. This means that, at times, you need to change your designs to suit the latest trends so that your business stands out from your competition.
With in-house or freelancers, such flexibilities oftentimes come at a cost or a compromise of something else. An on-demand graphic designer service like Brandripe, on the other hand, is prepared for such expectations and is ever-ready to deliver your customer's visual needs.
Hire the best on-demand graphic designer in the business – hire Brandripe!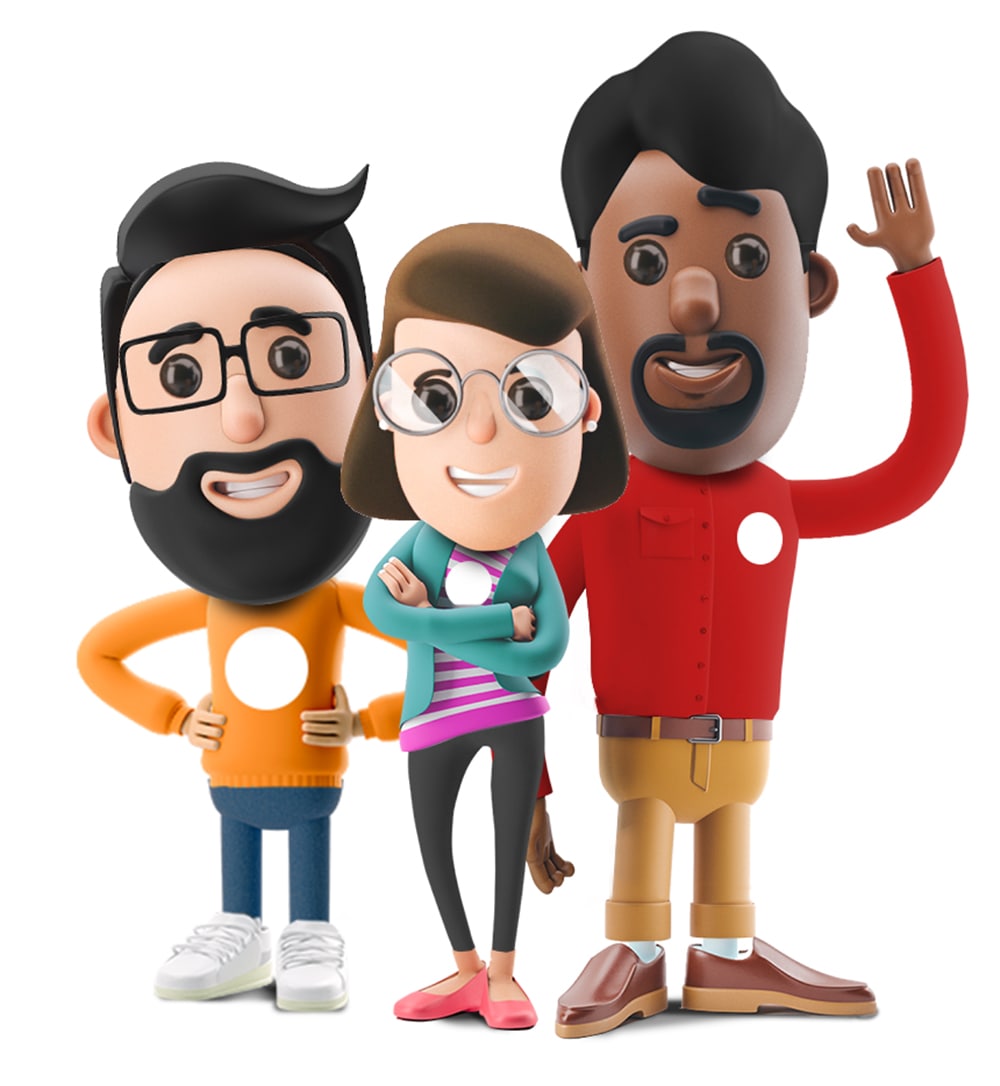 No matter your business nature, and no matter if you are running a startup or small business, you will need an on-demand graphic design service like Brandripe to cater to the rapidly-changing market.
The key differences between hiring in-house, a graphic design freelancer and an on-demand graphic designer are evident. Not only does an on-demand graphic designer save you time but it also provides more bang for your buck than any other option out there.
On top of this, Brandripe offers a guaranteed 24-48 hour turnaround time, with the ability to cater to unlimited requests and revisions by a group of vetted graphic designers.
In fact, if your business grows with more brands, Brandripe is ready to take on more graphic design requests with any additional brands under your account. Most of the time, businesses would need to hire more in-house graphic designers to meet the growing requests but with this service, you wouldn't need to.
With the revitalisation of the economy, mitigate your business risks with Brandripe's flexible plans that allow you to opt-out whenever you want. A greater testament to our confidence in our ability to deliver for your business is our 14-day money-back guarantee that you wouldn't get from hiring in-house or a graphic design freelancer.
If you would like to see what we have done for our clients, take a look at our previous work. Of course, you can rest easy as we are committed to providing you with unique designs and offering our expertise to align your visuals with your customer's needs.
You can check out our pricing here, but we highly recommend booking us for a quick 15-minute VIP Demo Call first, to discuss how we can collaborate with you to meet your business goals and see how we can go from there!