This just in: graphic design services will never be the same again with Brandripe.
We're talking no contracts, no sub-charges for exceeding revisions and no anxious refreshing of your email or following up with your graphic designer to check if that last piece of artwork has finally been submitted to you, all thanks to a guaranteed 1-2 days turnaround time.
Wait, how's that even possible?
Before we get into that, allow us to introduce ourselves.
Brandripe is a design company in Malaysia that is fueled by creators who understand, first-hand, the struggle of many businesses and brands out there: graphic design services are just so time-consuming, not to mention costly.
With the idea of breaking down this wall (read: obstacle) for many businesses out there, Brandripe offers a unique graphic design service with a flat rate -- allowing you to opt for what not only suits your needs but also your budget.
Whether you're an SME, part of a marketing team, start-up or agency, subscribing to Brandripe is a simple, scalable and straightforward way to outsource your graphic design projects and ideas.
Why Brandripe, you ask?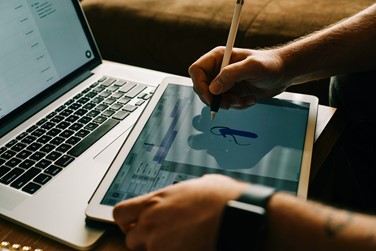 We want to keep the logistics simple. Which is why our monthly subscription plans were made with you in mind.
From easy cancellations to our clear cut, no hidden fees subscription plans (which comes literally an infinite number of amendments allowed), we give you full autonomy in getting exactly the right service and scope that you need.
To give you an idea of how we keep it simple and focused on the creative work rather than the fuss, we offer you:
1. Unlimited requests with no hidden fees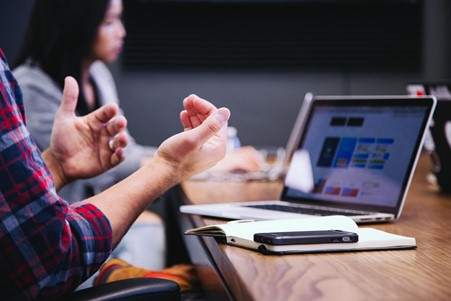 As a business at its infancy stage or in the midst of scaling across multiple markets, you will find yourself needing a larger volume of organic, quick-fire content to remain on top of things.
This is where we add value in ensuring you are able to get your content and messages out there for a flat fee -- unlike the traditional graphic design service route where add-ons are meant in every sense of the word: literally always adding on to your bills.
In fact, we're supporting one of Asia's leading online fashion destinations in adapting content across different channels and languages within the region, enabling our clients to focus on their primary brand image instead of graphic design executions.
The agility and impeccably fast turnaround time Brandripe provides is a good fit for such businesses that operate in fast-moving spaces. Testament to that, we are also working with one of South East Asia's top e-commerce sites!
2. Quick and reliable services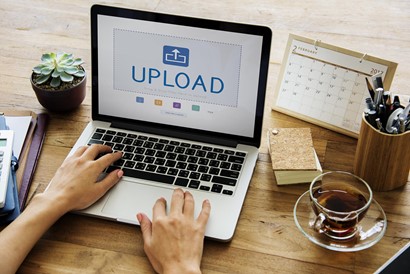 The pandemic has forced many businesses to pivot and adapt to the evolving demands of the market, which means you need to be able to move as quickly on your feet as possible in case you need to shift to a completely different model.
With Brandripe's guaranteed 24 to 48 hours turnaround time, you'll have your designs exactly when you need them, just as how we've supported our client in the cinema industry pivot to merchandising and e-commerce.
But what this also means is that you won't have to spend so much time searching for not only a graphic designer to get your project going, but also the right one with whom you can work to bring your designs to life as soon as possible.
3. Full ownership of the designs which were made for you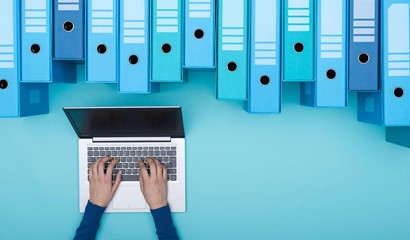 All of the work we produce is completely yours, simple as that. Nothing that came out of your brilliant mind and plans belongs to us, and so know that all copyright and ownership of the native files and final outcome are all yours -- as they should be.
This is also one of the main reasons why and how our digital agency clients and partners can focus on their own client retention and expansion by entrusting graphic design services to us.
4. Convenience and flexibility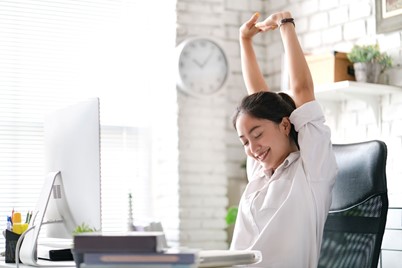 Our purpose is to become an enabler for businesses to scale and focus on their growth strategies without having to worry about the back-ends of graphic design, which is key to brand story-telling and impression.
We believe in offering you a stress-free partnership where you leave the creative work to us, and that includes flexible subscription rates as well so it doesn't have to be something that ends up dragging your wallet down.
You can opt for either a basic (as low as RM1,695) or a premium package (RM2,795) a month, as both come with the promise of unlimited design and our 24-48 hour guaranteed turnaround time.
This has worked well for our clients in the start-up or SME phase, where the business projection isn't fully concrete and they needed an agile creative service to adapt to the demands of the business.
Brandripe not only allows you to pick what budget range suits you but also decide when to hit pause or come to a full stop whenever you need to. You are in full control of so much more than just the graphic design service we offer; you're in control of your spending.
Plus, this means that you also get to save thousands of ringgit when you sign up with us. Trust us, we've done all the research and would be more than happy to give you the full rundown when you speak with us.
5. The opportunity to make a real impact on the community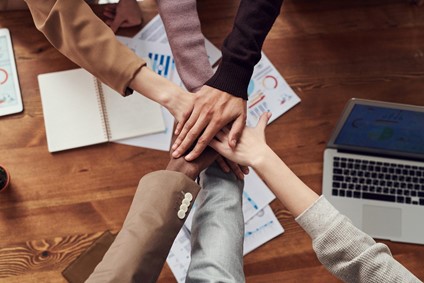 Now we're not all about business and helping you achieve your goals -- no matter how big or small they may be. What we're also about is giving back to the community so that we can all work towards making the world a better place.
Following this principle, we pledge to provide creative and graphic design support to local and regional charities that may be in need of design expertise and services. We dedicate each month to a different cause, and this would not be possible without your support and trust in our partnership.
Sounds good so far? Sign up for unlimited graphic design services with Brandripe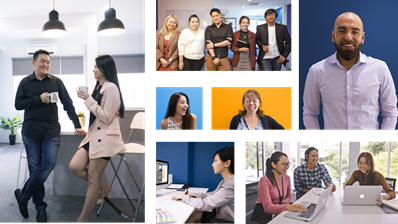 Brandripe takes absolute pride in providing all of our clients with high-quality designs that not only serve their purpose but also impart peace of mind and client satisfaction with every submitted work.
Our team of skilled creative designers is at your disposal, all via a fuss-free and no strings attached subscription.
Submit your design request today via Brandripe's portal and get started with our 14-day trial and receive your first design within 24 hours. The best part about this risk-free trial is that it comes guaranteed with unlimited design revisions until you are 100% satisfied with the artwork.
We definitely don't compromise on client happiness, making sure that you and your team can focus on your day to day in business and leave the content you need to get across to us.
So, if you're looking for that perfect graphic designer to help bring your vision to life, you've found it. You've found us.
And by working with us, you can:
Say goodbye to unnecessary time, money and resources spent looking for the right freelance graphic designer.
Enjoy flexibility and freedom of choice at a monthly flat rate.
Work with a pool of experienced designers that can take on any kind of graphic design scope. Logos, posters, merchandise, packaging -- you name it, we got it.
Expect fast and high-quality work to accommodate your busy schedule.
Focus on other aspects of running or starting your business without having to worry about the visual aspects.
Be part of our growing, happy and satisfied group of clients who have given us positive feedback: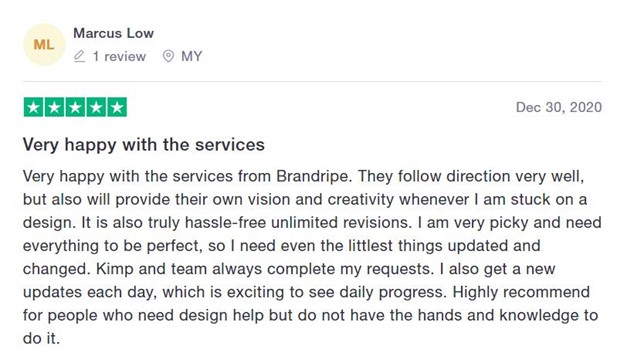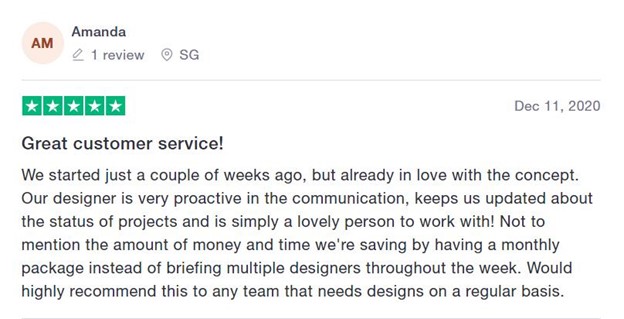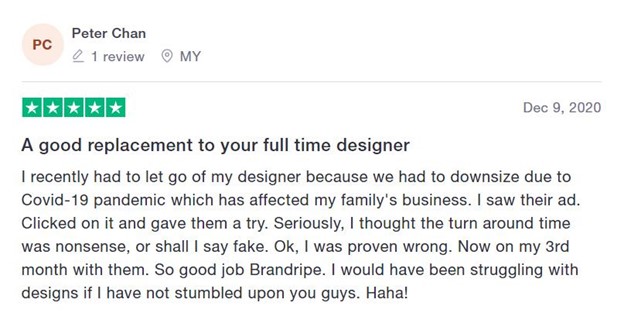 Ready to wow your audience and customers with amazing graphic designs? Set up a VIP Demo call with Brandripe here to connect with someone from our team to find out more.